Categories
Shop by supplier
Information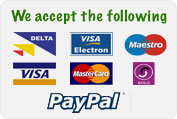 Nettex Scaly Leg Spray. 250ml
Nettex Scaly Leg Spray. 250ml
Nettex Scaly Leg Spray is a 3-in-1 solution that soothes, softens and cleanses the scales on your chickens which are affected by scaly leg mites.
Provides a natural barrier.
Creates an uninhabitable environment.
Suffocates the scaly leg mite eliminating the source of irritation.
Helps to soothe, soften and cleanse scales providing relief from discomfort.
Read More...
No other images available
Other products you might like

Coxoid. 112ml. Coccidiosis Treatment. .
Price: £11.55

Scaly Leg Spray. 250ml
Price: £9.77

1 Litre Nutrimin Apple Cider Vinegar.
Price: £4.89

Agrivite Poultry Pep - 500g
Price: £6.22

Chicken Lickin Nutri-Sect Insect Mix 850g
Price: £8.00

Chicken Lickin' Nutri-Peck Block - 250 Gm
Price: £4.00