Categories
Shop by supplier
Information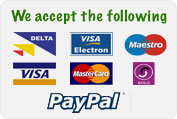 Outdoor Poultry Feeder. 6kg Blenheim. (Box of 10)
Outdoor Poultry Feeder. 6kg Blenheim. (Box of 10)
This price is for a box of 10 x outdoor blenheim poultry feeders.

An outdoor poultry & gamebird tube feeder on legs with waterproof raincover.

Holds approximatley 6 kg of poultry feed, wheat, mini pellets, layers mash etc

Comes with 4 legs to keep the feeder off the ground.

For 1 - 25 chickens, 50 adult pheasants, 100 chicken chicks or 150 poults.
Back to Poultry feeders
Read More...
No other images available
Other products you might like

Poultry & Gamebird Carrying Crate. 2 Door.
Price: €42.50
Virkon S Discinfectant. 5 Kg Tub
Price: €91.00
Heavy Monarch Dome Multi Catch Rat Trap.
Price: €26.00
Mink Cage Trap. Double Entry
Price: €29.00