Kampa Annecy Sleeping Bag. Blue. 2 Season.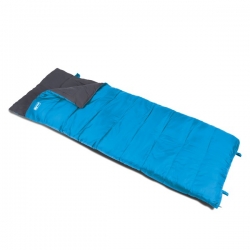 Kampa Annecy Sleeping Bag. Blue. 2 Season.
This generously proportioned sleeping bag is designed to be extremely comfortable and warm.
The outer shell and the lining are made from durable 190T polyester.
Superior yet lightweight UltraLoft+ insulation ensures this bag provides a comfortable night's sleep throughout 2 seasons.
Size: 215 x 75 cm
Shell: 190T Cired Pollester
Zip together: Any two of these sleeping bags can be zipped together to form a double
Lining: 190T soft-touch brushed Polyester
Filling: UltraLoft+
Weight: 1.25 kg
Complete with carry bag
Read More...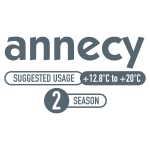 Other products you might like
Neck Inflatable Pillow. Gelert
Price: €3.00

Deluxe Single Flocked Airbed
Price: €18.00

Foam Camping Mat.
Price: €7.50

Campingaz Bleuet Micro Plus Stove
Price: €20.00

Kampa Jet Flame Stove with Piezo
Price: €15.00

Kampa Kip Wideboy 10. Self-Inflating Mattress.
Price: €80.00