Categories
Shop by supplier
Information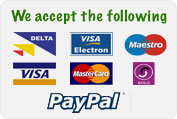 Campingaz Party Grill 600 COMPACT. Camping Portable Gas BBQ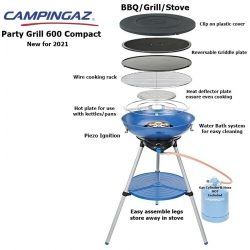 Campingaz Party Grill 600 COMPACT. Camping Portable Gas BBQ
CAMPINGAZ COMPACT PARTY GRILL 600 BBQ.
The Party Grill® 600 stove is the essential camping companion with endless cooking options!
This compact, portable stove Party Grill® 600 offers the wide range of cooking options; stove top, grill & griddle.
All elements of the Party Grill® can fit inside the device.
Thanks to its detachable legs and lockable lid it is easy to transport and store.
The Party Grill® 600 runs on conveniently sized Campingaz cylinders or any refillable gas bottle with suitable regulator.
The piezo ignition promises simple, match free lighting wherever you are, so you can get the party started.
Grill, griddle and stove cooking options
Grill and griddle with non-stick coating for better cooking results
Integrated pan supports for stove top cooking
Fully adjustable power
Water compartment to collect fat
Piezo ignition for convenient lighting
Power: 4000 W
Gas consumption: 290 g/h
Boil time: 3 min 50 sec
Ignition: Piezo
Runtime: 9 hrs and 30 min. on R907, 6 hrs and 15 min. on R904
Fuel source: R904, R907, or any refillable butane or propane cylinder
Weight: 9.5 kg
Dimensions (L x W x H): Ø 52 x 89 cm (on stand)
Pack Down Size: Ø 52 x 33 cm
Carry bag: Polyester
Get the party started with the Campingaz Party Grill®, the essential campsite and festival companion!
The Party Grill® family comes with numerous accessories included ensuring you have endless cooking options.
The Party Grill® 600 Compact comes equipped with a pan support, grilling grid & reversible cooking griddle.
The Campingaz Party Grill® family is especially compact and easy to transport.
All components of each of the stoves pack away inside the stove to make one very convenient unit.
Even the legs of each model are easy to assemble/disassemble and fit within in the water compartment of the grill.
The Party Grill® 600 compact comes equipped with a handy carry bag, ensuring transportation and storage is a breeze.
The Campingaz Party Grill® range is especially easy to clean.
Designed with a water compartment, this compartment catches any grease and cooking juices and prevents these from sticking to the stove.
When finished, simply discard the dirty water and rinse off with soapy water.
The pan support, grids and griddles are dishwasher safe but can also be easily cleaned with a sponge and soapy water due to their non-stick surfaces.
Portable version without lid.
REQUIRES REFILLABLE GAS BOTTLE, REGULATOR, HOSE & CLIPS NOT SUPPLIED
Read More...
No other images available
Other products you might like

Campingaz 904 New Cylinder & Refill
Price: €95.00
Campingaz 907 New Cylinder & Refill
Price: €110.00
9mm Butane Gas Hose & Clip Set
Price: €5.00

Gaslight & Patio Gas Regulator 37 mbar
Price: €14.00

Gaslight Gas Cylinder & Fill. 10kg.
Price: €75.00

Kampa Campingaz Regulator & Hose Pack.
Price: €20.00