Categories
Shop by supplier
Information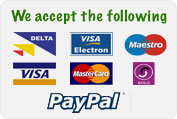 Buckwheat. 1/2 Acre.
Buckwheat. 1/2 Acre.
A quick growing game bird feed and cover crop.
Produces a lot of nectar which attracts bees and insects therefore providing interest for game birds especially partridge.
Sow when all risk of frost has gone preferably on a south facing slope.
Sowing rate: 20kg per acre. Packsize: 10kg
Read More...
No other images available
Other products you might like

Hotline Shrike Energiser
Price: €80.00

Hotline Gemini 120 Electric Fencing Unit.
Price: €150.00 €120.00

Mink Cage Trap. Single Entry.
Price: €29.00

Phacelia. 1/4 Acre Pack
Price: €17.00
Quinoa Game Cover Crop.
Price: €48.00

General Gamebird Mix. Cover Crop. 1 acre pack.
Price: €69.00