Categories
Shop by supplier
Information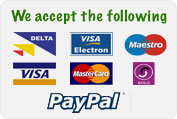 Clover - Yellow Blossom
Clover - Yellow Blossom
A biennial plant which may persist for two seasons.
Its sweet smell and copious production of nectar is highly attractive to insects, which in turn attract game birds and wildilfe.
Sown with Kale will help provide cover in the first year.
Sowing rate: 2.5kg per acre. Pack size: 5kg (untreated)
Read More...
No other images available
Other products you might like

Phacelia. 1/4 Acre Pack
Price: €17.00
Quinoa Game Cover Crop.
Price: €48.00
Sunflower. 1/2 acre pack.
Price: €30.00
Kale.
Price: €35.00

General Gamebird Mix. Cover Crop. 1 acre pack.
Price: €69.00