Categories
Shop by supplier
Information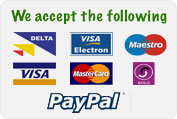 Game Maize - All Season Irish Blend.
Game Maize - All Season Irish Blend.
A blend of 3 varieties of maize with differing maturity dates and plant types.
Will produce early maturing cobs and later plant types with increased leaf area.
High vigour for good early establishment to ensure a good winter stand.
Offers security where conditions may affect establishment or growth.
Treated with Mesurol (insecticide).
Sow at 45,000 seeds per acre which is pack size.

Read More...
No other images available
Other products you might like

Grey Crow Cage Trap. Heavy Duty 4 Compartment.
Price: €140.00

Phacelia. 1/4 Acre Pack
Price: €17.00
Quinoa Game Cover Crop.
Price: €48.00
Sunflower. 1/2 acre pack.
Price: €30.00

General Gamebird Mix. Cover Crop. 1 acre pack.
Price: €69.00