Categories
Shop by supplier
Information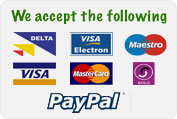 Crow and Rook Plastic Caller
Crow and Rook Plastic Caller
Long "caw" reproduced by steady blow, gripping the flexible jaws with your teeth and by holding the base with a half-closed hand. (Other positions give various pitches)
Acme Crow & Rook Call.
A black whistle / call with a plastic tongue.
By squeezing with the teeth during blowing it will produce the call of young and old crows.
Read More...
No other images available
Other products you might like
7 Shotgun Full Size Gun Safe. ST7
Price: €320.00

Rabbit Long Net. 25 yards.
Price: €35.58

Neck Lanyard For Whistles, Calls & Compasses
Price: €4.00

Flat Packed Round Multi Catch Magpie Cage Trap.
Price: €95.00