Categories
Shop by supplier
Information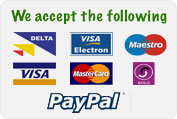 Acme Sonec Working Dog Whistle # 210
Acme Sonec Working Dog Whistle # 210
210 Small ultra high pitch whistle has a natural cork ball which produces the familiar 'trilling' roll of the pea whistle.
The Acme 210 Gun Dog / working dog whistle is an easy blowing, High tone dog whistle.
The 210 is fitted with solid, waterproof pea, to give a trill for those who want a distinctive and different sound.
For your gun dog supplies visit us in Dingle Town.
Read More...
No other images available
Other products you might like

Verm-x Liquid For Dogs. 500ml
Price: €40.00

Acme Sonec Working Dog Whistle # 210.5
Price: €10.00

Silent Dog Whistle
Price: €20.00

Neck Lanyard For Whistles, Calls & Compasses
Price: €4.00

Shepherds Mouth Whistle
Price: €3.50

Coiled 2m Lead for Tracer Battery Packs
Price: €11.00