Categories
Shop by supplier
Information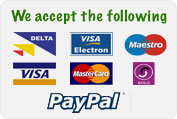 Duck Egg or Large Chicken Egg Box. 140 pack size
Duck Egg or Large Chicken Egg Box. 140 pack size
A Quality Egg Box to hold 6 large eggs.
Bigger than standard egg boxes so ideal for Duck Eggs & Large Chicken Eggs.
Made from pulp fibre.
Quality egg box with side opening, 2 locks & a flat top for labels.
140 x 1/2 dozen boxes per case.
Read More...
No other images available
Other products you might like

Egg Washer. Rotomaid 100 With Free Egg Basket.
Price: €391.36

Oyster Shell. 5Kg.
Price: €9.50

1 Litre Nutrimin Apple Cider Vinegar.
Price: €5.50
Chicktec Liquid Egg Wash 1Ltr
Price: €10.00

Automatic Duck Drinker. 16 Litre.
Price: €74.50 €64.00