Categories
Shop by supplier
Information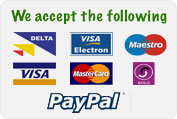 Gates & Stiles
Gates & Stiles
This book looks at the many types of farm gates and stiles together with their history and manufacture.
This large and diverse subject is covered in great detail over 151 pages and with more than 200 illustrations and photographs.
Topics covered include the history and different designs of gates, the construction of gates, the origins of footpaths and much more.
If you are a keen walker this book is ideal, allowing you to tick off the gates and stiles covered in the book that you have seen on your ramblings.
Please note: the cover shown is the back cover, the book is in landscape format.
Read More...
No other images available