Categories
Shop by supplier
Information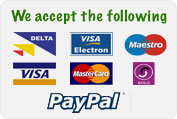 Humidity Management Module Silicone Tubing 3m
Humidity Management Module Silicone Tubing 3m
Silicone Water tubing used for interconnecting the incubator or brooder, the Humidity Management Module and the water reservoir including Contaq X3, X8 and Z6 incubators.
It is also used with the Humidity Pump for the Octagon Advance & Ova Easy Range of Brinsea Incubators.
This silicone tubing is used for teh new Brinsea Ovation Incubators as well.

For optimal performance, the tubing will need replacing about every 3 months depending on usage.

Sold in 3m length.
Read More...
No other images available
Other products you might like
Humidity Evaporating Pads (pack of 5)
Price: €10.00
Humidity Pump Motor for Older Brinsea Pumps.
Price: €40.00

Brinsea Octagon 20 Advance to EX Upgrade Kit.
Price: €106.73

Ova Easy Advance / TLC-40 / TLC-50 Humidity Pump
Price: €135.00
Advance Humidity Pump - V Clips
Price: €4.00