Brinsea Ova-Easy Advance 580 Series II
Brinsea Ova-Easy Advance 580 Series II
Ova-Easy Advance incubators are fitted with Brinsea's proven digital control system which provides a range of useful and easy-to-use extra features like humidity readout and temperature alarms.

The Ova Easy 580 now includes Brinsea's fantastic cooling system.
Ova-Easy Advance Series II incubators now have improved features which include room temperature alarms to warn if the environmental temperature goes outside the optimum range; and a new single-button press to automatically level the shelves for easy tray access.
Eggs are held in removable trays and the user can configure the incubator to their needs by choosing one of the trays available.
Universal trays are adjustable for egg size from quail through to goose and are supplied as standard with the machine.
Eggs are set on six levels.

However, it is also possible to purchase a separate hatcher in order to increase the capacity of the incubator.
The Ova-Easy Advance Hatcher can be found by clicking here.

Supplied with universal egg trays. There are additional special egg trays available that also increase the capacity of the Ova-Easy Incubator.
There are trays for: Hens, Quail, Duck/Turkeys and Pheasants.
Temperature and humidity levels are shown on a calibrated digital display on the front of the panel.
The fully automatic turning can be switched off from the control panel while the eggs are being accessed or the incubator is being cleaned.
The Ova-Easy cooling system is a unique new design which mimics the natural way in which a mother would sit on the eggs, it gives the user the option of 60, 120, 180, 240, 300 or 360 minutes a day in which the eggs will be cooled. Once this cooling period is over, the incubator will then return to its correct incubation temperature.
The Ova-Easy models have fully protected steel chassis which are rigid and rust resistant with laminated high quality plastic sides; providing good thermal insulation and smooth, easy to clean surfaces.
The transparent, double glazed door provides thermal insulation plus the convenience of total visibility of eggs and hatched chicks.
The Ova Easy can also hold Rhea Eggs (Please call us for more information)
Boxed Weight = 52Kgs Box Dims = 123cm high x 55cm wide x 93cm deep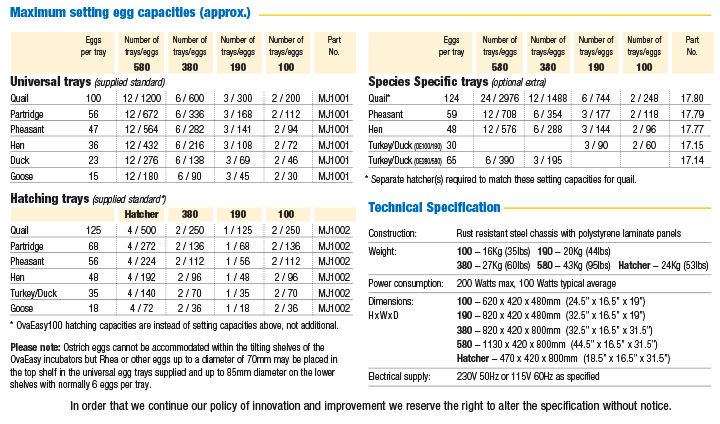 Read More...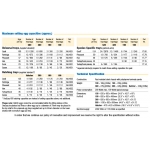 Other products you might like

Humidity Management Module Silicone Tubing 3m
Price: €14.00

Rigid Tubing For Advance Humidity Pumps
Price: €2.50

Brinsea Ova Easy Advance Incubator Sensor
Price: €55.00

Large 4mm Diameter Silicone Tubing.
Price: €7.25

Brinsea Evaporating Block for OvaEasy 580 Incubators
Price: €17.50