Steel heating element, square, 100W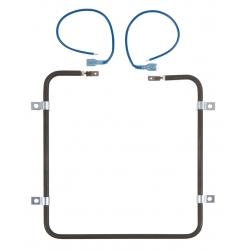 Steel heating element, square, 100W
Heating element of stainless steel (220-240Volt) with faston-connection.
The diameter of the tube is 6mm.
Delieverd including 2 cable connectors (faston) and 4 brackets for the mounting of the element.
We advise to avoid using elements with too much capacity in incubators (e.g. don't use an element with 250 Watt when one with 150 Watt is sufficient).
Heating elements tend to afterglow, and keep heating the incubator also after the thermostat has switched off the power supply to it, therefore, if the capacity of the heating element is too high, you may get very significant temperature fluctuations.
Read More...
No other images available
Other products you might like
Thermostat Assembly with Microswitch & 3" Wafer
Price: €35.00

75 Watt Element Heating Cable For Incubators & Brooders.
Price: €16.00

Air rosette for incubators, stainless steel, 85mm
Price: €10.00