Brinsea Maxi 2 Advance EX Automatic Incubator. No Stock until End May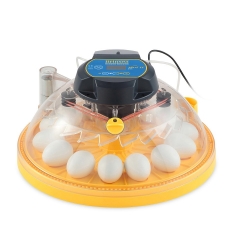 Brinsea Maxi 2 Advance EX Automatic Incubator. No Stock until End May
The Brinsea Maxi II Advance EX is a fully automatic incubator with a digital control system, automatic egg turning and highly accurate humidity control.
The Brinsea Maxi II Advance EX is extremely easy to use and is the ideal incubator for beginners who are new to hatching.
The Brinsea Maxi II Advance EX has a capacity of 14 hen eggs or 14 duck eggs which are turned automatically.
The Brinsea Maxi II Advance EX is also suitable for hatching 40 quail or 40 pheasant eggs and comes with the small egg grid.
The clear walls of the egg chamber allow you to see every second of an egg hatching from every angle.
The Brinsea Maxi II has, just like the Brinsea Mini II, a 12V adaptor and is therefore very safe and ideal for use in education of children.
The digital display shows the incubation temperature (in degrees Celsius or Fahrenheit) and the humidity percentage.
The Brinsea Maxi II Advance EX has integral automatic humidity control: the user dials in the desired humidity level and as long as the water reservoir is topped up, the incubator does the rest.
By using the supplied silicone water tube, the incubator can be connected to a suitable water container, for example a 0.5L or 1L bottle.
The user can alter settings to control incubation temperature, turning interval, high and low temperature alarm limits and periodic cooling.
The high frequency turn facility makes this refined incubator ideal for parrots as well as all other eggs up to duck egg size.
The Brinsea Maxi II has excellent hatching results.
All Brinsea Maxi models incorporate Biomaster antimicrobial additives in the plastic which reduces the risk of contamination causing unexplained embryo failing.
Read More...
Other products you might like
Maxi II Advance & EX Small Egg Disk.
Price: €28.00

Verm-X pellets for Cage Birds. 100g
Price: €6.00
Plastic Hatching Mat for Brinsea Maxi Incubators
Price: €6.50