Categories
Shop by supplier
Information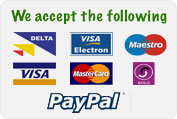 Kampa Rapid Dissolve Porta Toilet Paper – 4 Pack
Kampa Rapid Dissolve Porta Toilet Paper – 4 Pack
Kampa rapid dissolve toilet paper.
Pack of x 4 toilet rolls.
Specially formulated for use with chemical toilets.
Dissolves easily, unlike conventional loo roll, to prevent blocking tanks. Ideal for caravans, camping, motorhomes and marine.
Suitable for cassette toilets
Read More...
No other images available
Other products you might like
Kampa Portaflush 10 Litre Toilet.
Price: €75.00

Kampa Portaflush 20 Litre Toilet.
Price: €90.00
Elsan Green Organic Toilet Fluid. 2 Litre.
Price: €17.00

Kampa Loo Loo. Toilet / Shower Tent.
Price: €40.00

Campingaz Portable Toilet 20 Litre.
Price: €95.00

Toilet Tent. Kampa Privvy
Price: €75.00