Categories
Shop by supplier
Information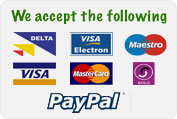 Kampa Watergate 6. 6 Man Tent. No stock until 2021
Kampa Watergate 6. 6 Man Tent. No stock until 2021
The Kampa Watergate 6 is a quality 6-berth tunnel tent with a vis-à-vis bedroom arrangement (i.e. the bedrooms face each other) across a large central living area.
The vis-a-vis are particularly popular for those who want a bit of separation from their camping companions.
The tent features a fully sewn-in groundsheet throughout so preventing drafts, bugs and an exceptionally high water table entering the tent.
Kampa has not skimped on the size of the windows in the living area which help make the interior feel light and airy.
There's also plenty of headroom at 200cm in height.
Access in and out of the tent comes from the two large side doors, one of which has a protective rain canopy overhead to protect the doorway in inclement weather.
In addition, both have secondary mesh doors to keep any flying bugs at bay on hot days when you still want plenty of ventilation.
To help accommodate 6 people there's a 4-berth inner which has a divider curtain to form a 2+2 arrangement.
At the other end of the tent there's a separate 2-Berth inner with an annexe which can be used as a wardrobe, storage or toilet area.
As the tent has a fully sewn-in groundsheet this inner can be removed if desired, to create more living space.
The inners also have a useful organiser pockets in the front wall –handy for all your bits and bobs.
The Kampa Watergate 6 Key Features:
Weathershield polyester flysheet.
5000mm hydrostatic head.
Sewn-in PE groundsheet (10,000mm HH).
Large end vents that can close.
Three large windows.
Interior privacy covers.
Two side entrance doors.
Mesh double doors.
Inner tent organiser pockets.
Canopy porch poles included.
Lamp hanging point.
Cable tidy system.
Zipped cable entry point.
Pack Size 78 x 52 x 38cm.
Weight 22.15kg.
Width 310cm.
Length 210+250+140cm (620cm Overall).
Height 200cm.
Berth 6-Berth.
Colour Grey & Black
Read More...
Other products you might like

Double Action 2ltr Push / Pull Pump
Price: €18.00

Deluxe Single Flocked Airbed
Price: €18.00

4 Pack Deluxe Double Flocked Airbeds
Price: €99.00
240V /12V Dual Electric Pump. Tornado 2.
Price: €20.00

Kampa Bunkie Camping Bunk Bed.
Price: €132.15 €106.73