Categories
Shop by supplier
Information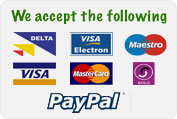 Leather Ferret Collar
Leather Ferret Collar
A good quality leather ferret collar with riveted studs and a good quality buckle.
8" Long.
Suitable for Deben Ferret Locator.
Hard to come by in this quality at this price.
Colour may vary from one shown.
Read More...
No other images available
Other products you might like
Tracer Sport Light 170 Hunting Lamp.
Price: €95.00

Leather Ferret Harness
Price: €6.00

Deben Ferret Finder / Locator Set Mk3M
Price: €275.00 €220.00

Purse Nets. 1 Metre 4z Nylon (10 Pack)
Price: €27.00