Categories
Shop by supplier
Information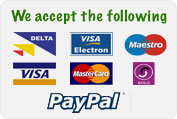 Lightforce Striker Red Filter
Lightforce Striker Red Filter
This Red filter is for the Lightforce Striker 170mm hunting lamp and no other.
Red Filters are the most popular for foxing & rabbitting.
Filters are available in several colours, for most reflector sizes.
These are quickly attached and detached by simply clipping onto the front of the reflector housing to suit operating conditions.

Hunting lamps, hand held lamps, lightforce, clulite, cluson, deben, optronics, foxing lamps, fox lamps.
Read More...
No other images available
Other products you might like
Tracer Sport Light 170 Variable Power.
Price: €110.00
Tracer Sport Light 170 Hunting Lamp.
Price: €95.00