Categories
Shop by supplier
Information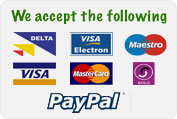 Lightforce Striker 170 Lamp. 12 volt.
Lightforce Striker 170 Lamp. 12 volt.
Lightforce lamps have gained the reputation for being the most durable and specially suited lights on the market.
This light plugs into a cigarette lighter or a deben lithium ion battery pack.
Lightforce have brought the solid lamp and light technology to the outdoors.
The Lightforce SL170 Striker is a popular lightweight light with a 170mm lamp reflector providing a compact yet powerful light.
The Lightforce 170 Striker has been engineered with a hi-tech polymer for extra strength along with a maximum performance high grade Lightforce reflector.
The LightForce SL170 also boast innovation, such as the insert in the bottom of the handle, can house a spare lamp bulb that can be easily replaced in any environment.
Lightforce features include:
Lamp Reflector housing rotates to easily tailor light beam pattern to suit the users requirements, flood light or spot light
Quality On/Off switch for user comfort and durability
5/16 BSW robust brass ferrule for mounting options
Ergonomically balanced handle for superior handling with user friendly texture to ensure no-slip in adverse conditions
High specification bulbs to ensure unequalled brightness
Lanyard securing point for extra security
Read More...
No other images available
Other products you might like
Deben Lithium Ion Battery 12 Volt 14AH
Price: €235.00
Deben Lithium Ion Battery 12 Volt 10AH
Price: €185.00
Deben Lithium Ion Battery 12 Volt 22AH
Price: €320.00
Lightforce Striker / Tracer 170 Bulb. 75w.
Price: €12.50

Fox Caller - Hardwood - Small
Price: €11.00
Deben Lithium Ion Battery 12 Volt 8AH
Price: €155.00