Categories
Shop by supplier
Information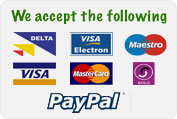 Magpie Cage Trap. 4 Compartment.(Octagonal). No stock until end June
Magpie Cage Trap. 4 Compartment.(Octagonal). No stock until end June
As these are hand made by Mike Johnson here in Dingle including all parts allow 2 - 3 weeks delivery time.
The original and still the best multi catch magpie cage trap.
This is our design and made exclusivley by our workshop in Ireland.
We have made this multi catch magpie - multi larsen trap for over 20 years.
This magpie Cage Trap is made from heavy duty galvanised weld mesh.
Held together with Harco Clips not hog rings. Ready assembled ready to use magpie trap.
4 Catching compartments & call bird compartment in centre of cage.
You must provide your call bird with a perch & food & water.
*** We cannot ship this product outside the 32 counties of Ireland due to size and weight issues ***
Allow 2 weeks for delivery of this magpie cage trap
Traps must be checked at least twice daily.
Do not confuse this with cheaper copies of the multi catch magpie & larsen traps or green powder coated versions.
We can supply cheaper magpie cage traps traps but you will get what you pay for.
We have supplied these to hundreds of NARGC Members & Gun Clubs in Ireland & U.K.
back to Vermin Control And Traps
Check current legislation regarding use of these traps before use with Dept of Agriculture or National Parks & Wildlife Service.
Read More...
No other images available
Other products you might like
Heavy Duty Pheasant Feed Spring
Price: €3.81

Larsen Trap Springs ( A Pair )
Price: €6.00

Squirrel Cage Trap. Double Entry.
Price: €33.00

Magpie Decoy.
Price: €7.50

Phacelia. 1/4 Acre Pack.
Price: €20.00