Categories
Shop by supplier
Information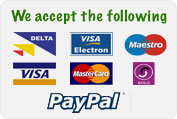 Pigeons, Doves & Dovecotes
Pigeons, Doves & Dovecotes
A new book on keeping pigeons in polecotes, wallcotes and aviaries with chapters on beginner's breeds, types of housing, pigeons and gardens.
How to set up a breeding colony, breeding and management, pigeon predators, diseases and ailments.
There are chapters on the origin of the domestic pigeon and the history of dovecotes, especially from Egypt, together with many colour photographs and illustrations.
Read More...
No other images available