Egg Dip & Incubator Detergent. Incubator Discinfectant 500ml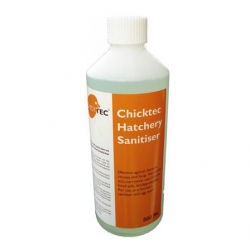 Egg Dip & Incubator Detergent. Incubator Discinfectant 500ml
Sanitiser / cleaner for incubators & brooders also used as an egg wash.
Safe non-toxic non-irritant non-corrosive, biodegradeable, suitable for all hard surfaces, and as an egg wash.
Safe to skin (subject to individual sensitivity).
Makes up to 10lts when diluted.
100ml of disinfectant concentrate makes 10 litres of solution for cleaning eggs & incubators.
We sometimes supply another brand but of same product under different lable. Picture for display only.

Read More...
No other images available
Other products you might like

Egg Candler. Super Flash Standard.
Price: €20.00
30 Cm Plastic Chick Feeding Trough
Price: €2.95
Chick Heat Plate / Electric Hen For 20 - 25 Chicks.
Price: €37.38