Categories
Shop by supplier
Information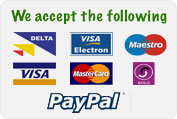 Treadle Feeder for Poultry. 12kg Capacity.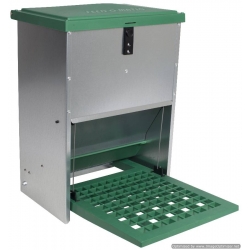 Treadle Feeder for Poultry. 12kg Capacity.
A Heavy Duty Rat proof outdoor poultry treadle feeder made from durable galvanised steel holding 12kg of feed.
The chickens / birds stand on a Plastic treadle plate to lift a flap to gain access to the poultry food.
Suitable for dry feed, poultry pellets & mash.
It is an all-weather galvanised rat proof poultry feeder that cannot be operated by vermin.
Galvanised, Vermin-Proof Treadle Feeder imported by Mac Eoin Ltd..
Suitable for all adult poultry, chickens & ducks.

Treadle Feeder holding 12 kg of poultry pellets / mash for chickens, ducks, pheasants & all farm fowl.
Back to Poultry feeders
Read More...
No other images available
Other products you might like

Poultry & Gamebird Carrying Crate. 2 Door.
Price: £37.31

12 Litre Heavy Duty Poultry Drinker
Price: £11.55
Verm-X Poultry Liquid. 250 ml
Price: £16.88

Wise Poultry Feeder. 5kg Cage Mounted.
Price: £30.59
Aluminium Feed Scoop. 1000ml - 1000g
Price: £6.55