Categories
Shop by supplier
Information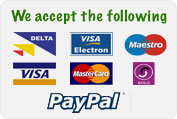 TUFFLASK 1000+
TUFFLASK 1000+
Easy pour / anti-leak flask with stopper system.
Includes carry bag & side handle.
For the Hunter, Fisherman, Golfer, Camper etc
Specifications
Fabric/Materials: Stainless steel
Capacity: 1 Litre
Weight: 0.67 kg
Read More...
No other images available
Other products you might like

Coleman 5 Quart Flip Lid Coolbox
Price: €18.00
Map Compass Deluxe
Price: €4.50

Kampa Hottie Portable Gas Heater.
Price: €36.00