Categories
Shop by supplier
Information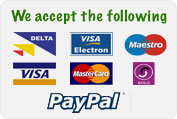 Hunting Barn Owl Decoy.
Hunting Barn Owl Decoy.
Realistic owl shaped bird scarer boasts a huge 1 m wingspan;
Its large wings flap in breezy weather, mimicking the sound and movement of an owl.
Quick and easy to set-up, simply slot the hunting owl onto any pole (pole not included).
Durable, weatherproof material ensures that gardens, allotments and buildings are protected from birds and rodents in all weathers;
It is recommended to take the owl down in high winds or extreme sub-zero temperatures.
Lifelike owl deterrent repels pigeons, crows, squirrels and rabbits from the garden with the sound and motion of the wings.
Humane bird repeller is safe for use around kids and pets
Read More...
No other images available
Other products you might like

Bird Scarer. Wind Powered.
Price: €14.00
Sonic Electronic Bird Scarer.
Price: €65.00

Standing Falcon Decoy.
Price: €25.00

Flying Falcon Decoy
Price: €22.00

Wind Action Owl Decoy.
Price: €27.00

Ultrasonic Bird Scarer.
Price: €65.00