Categories
Shop by supplier
Information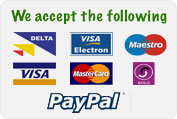 Red Top Ultimate Fly Trap
Red Top Ultimate Fly Trap
Exceedingly effective Ultimate Red Top Fly Trap - prevents flies entering your buildings,homes.
Ideal for smallholdings, poultry farms, dairies,homes - or anywhere plagued by flies every summer.
Catches up to 20,000 flies per trap - and once trapped they can't escape.
Simply add water to bait and hang the fly trap 10-15 m away from the area you wish to protect.
Non-toxic bait is especially appealing to female flies, thus reducing the next generation and lasts up to 12 weeks. (Although your trap may well be full long before then!)
This trap makes a noticeable difference to the fly population!
The Ultimate Trap for Flies.
Read More...
No other images available
Other products you might like