Categories
Shop by supplier
Information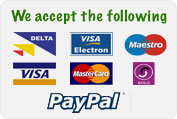 Pigeon Drinker. 5 Litres.
Pigeon Drinker. 5 Litres.
A High Quality Hanging or Standing Pigeon Drinker.
Complete with Easy Grip Handle & Hanging Loop.
Can be used for Poultry and Pigeons.
Read More...
No other images available
Other products you might like

Cage Feeder / Drinker
Price: €1.35

Poultry Manure Scraper
Price: €12.00
Harkers Duramitex Plus. 200ml.
Price: €10.00

Harkers Harka-Mitex. 140ml.
Price: €8.50