Categories
Shop by supplier
Information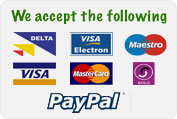 About Us
MacEoin General Merchants Ltd formerly Dingle Poultry & Farm Supplies was set up in 1989 by Mike Johnson who moved back to Ireland after completing 3 years at De Montfort University ( Linclonshire College Of Agriculture ) in the UK. Courses studied included Poultry Farm Management, Game Bird Rearing, Incubation, Poultry Processing and many others.

This grounding along with many years working with poultry and game birds especially in poultry hatcheries & with commercial poultry breeding flocks means most questions in relation poultry keeping & game bird rearing can be answered. Mike Johnson is available to answer questions and give advice on these subjects when required.

Mac Eoin General Merchants Ltd was originally set up to import & distribute Poultry Keeping Equipment & Incubators throughout Ireland. In the past 21 years the business has grown and we now have several other sides to the business. We fill & distribute to 160 outlets in Ireland all the Campingaz Refillable Gas Cylinders & products. We also do distribution for Coleman, Gelert, Highlander, Sunn Camp and other outdoor companies. We also have an engineering workshop where we manufacture traps, snares & poultry equipment. Gas filling and distribution takes place at the filling plant in Mallow, Co. Cork.

We have a small grocery store in Ballydavid, Co. Kerry & also a Fuel Depot in Ballydavid where we serve west kerry with Coal, Gas, Logs, Turf, Briquettes & Oil.

Mac Eoin General Merchants Ltd is the largest supplier in Ireland (North & South) of Poultry Incubators and ancillary equipment, and would be one of the largest suppliers into the U.K of game bird rearing equipment, especially Incubators, vermin traps and gas brooders. Most of the traps supplied are made specifically for us and to our own designs in our workshop based in Bradford in the UK.

Many of our poultry keeping supplies & products are available through agents, which are located around Ireland & Northern Ireland. These agents would stock a limited range of incubators and the more popular poultry keeping supplies & equipment. Please ask for details of distributors.

We also specialize in exporting goods to Europe and further afield and can offer competitive prices and carriage costs to most destinations. Incubators and other electrical equipment can be supplied to suit requirements in most countries. Container shipping & drop shipping orders welcome.

Mac Eoin General Merchants Ltd are the main Flogas distributor for West Kerry. Gas both in bulk and in bottled form can be delivered nation-wide (and now into the U.K.) through a large network of distributors and we can offer very competitive prices for commercial users, home heating and for gamekeepers & poultry farmers. Please ask for a representative to call to discuss your requirements.

Mac Eoin General Merchants Ltd is mainly a mail order & website business, callers are welcome to our warehouse in Dingle Town but should always phone first to check availability of the goods required and to arrange a visiting time. Most goods listed on the website are available from stock, however at peak times goods can get backlogged. This mainly applies to incubators and plucking machines so please order these goods well in advance of your needs.

We carry in stock a large range of commercial egg incubators, poultry plucking machines, poultry gas & electric brooders, poultry feeders & drinkers and other goods, which are not listed on the web site.

We carry a large range of spare parts for all the incubators & poultry equipment we supply and also lots of poultry equipment which is obsolete. Spare parts cannot be listed due to the volume we carry, please ask for any specific items that you may require.

If you require further information on any goods or indeed any aspect of poultry & game keeping please call us.

Exclusive / Appointed Distributors In Ireland For:

Brinsea Incubators & Poultry Equipment Ireland

Novital Incubators & Poultry Keeping Supplies Ireland

Ecostat Incubators & Incubator Thermostat Company.
Hovabator Incubators
Ova Easy Incubators
Carefree Coops Ireland

Maino Incubators & Brooders Ireland

Fiem Incubators Supa Brooders & Electric Hens

Hamer Poultry Incubators

Gold Cockerel Poultry Books

Grangers Waterproofing Products

Hovabator Incubators & GQF Poultry Products
Equipment & Incubators for All Farm Fowl
Coleman Outdoor Products

Campingaz

Elasan Toilet Fluid

Wetline Leisure Batteries

Hotline Electric Fencing

Poacher Vermin Control Products

Poacher Traps & Fox Snares

Springer Mark 4 & Mark 6 Traps

Gelert

Highlander

Mitex Red Mite & Louse Powders

Smite a Mite

Rcom Incubators

Antec Deben Shooting Supplies

Clulite Hunting Lamps

Lightforce Hunting Lamps

Sierra Game Bird Brooders

Verm-x Keepwell & Internal Parasite Control

Osprey & BEC Poultry Equipment

Solway Feeders
Gelert Camping Equipment Ireland
Coleman Ireland
Campingaz Ireland
Flo Gas Distributor for Dingle & West Kerry
Staffords Coal & Fuel Distribution for Dingle & West Kerry
Bord na Mona Fuel Distribution for Dingle & West Kerry

Dingle Fox & Crow Traps