Categories
Shop by supplier
Information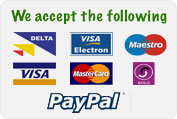 Privacy Policy
Use of your Personal Information.

We use your personal information for the following purposes:

To deliver goods to you that you ordered directly from us
to deliver electronic services, such as newsletters or downloads that you request
To help us create and publish content most relevant to you.
To alert you to ammendments, corrections, special offers, updated information and other new services from MacEoin General Merchants Ltd if you so request.
To allow you access to limited-entry areas of our site as appropriate.
We do not pass this information on to any third party other than the relevant financial institution dealing with your purchase.