Categories
Shop by supplier
Information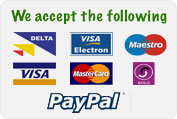 Brinsea ChickSafe Eco Automatic Hen House Door Opener
Brinsea ChickSafe Eco Automatic Hen House Door Opener
The Brinsea ChickSafe Eco door opener is a tough and reliable system for automatically opening your hen house door in the morning and closing your hen house door as light levels drop in the evening, keeping your birds safe giving you peace of mind.
The Brinsea ChickSafe Eco is battery powered (batteries supplied) and easy to fit to any hen house with a vertical sliding door.
Simply fix two screws into your hen house (supplied) and attach the cord to your existing door.
No manual calibration is necessary: the ChickSafe Eco automatically adjusts to the height of your hen house door.
The ChickSafe Eco is tough and can raise and lower any vertical door from 300 grams to 4 Kg in weight.
It works by detecting lowering light levels as night falls and closes the hen house door, as light levels increase in the morning the door is automatically opened.
The sensitivity of the falling light level is user adjustable and the software looks for slow changes in light so isn't affected by car headlights at night, for example.
The Brinsea ChickSafe Eco has an indicator to show that the door is open, closed, battery low or fault alert. It features 'auto-stop' if a chicken is obstructing the door.
Brinsea's door openers are weatherproof, work in extreme weather conditions and are made from UV resistant materials.
Brinsea ChickSafe hen house door closers can be used with your existing sliding door or Brinsea's ChickSafe Hen House Door (part number CS005).
Like all Brinsea's products, the ChickSafe Eco has a FREE 3 year guarantee, subject to online registration.
Brinsea Chicksafe is distributed in Ireland & Northern Ireland by MacEoin General Merchants Ltd.
Read More...
Other products you might like

Top Netting 1.5 Inch Square Mesh. 11' x 11'
Price: €15.00
Aluminium Feed Scoop. 1000ml - 1000g. Due 20th June.
Price: €8.50

Oyster Shell.1Kg.
Price: €4.25
Treadle Feeder for Poultry. 8kg Capacity.
Price: €42.00
Brinsea ChickSafe Two Stage Hen House Door with Rails.
Price: €35.00
Pulleys for Door Openers. 2 pack.
Price: €5.00