Categories
Shop by supplier
Information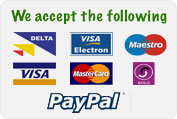 Cylinder Cover for the Campingaz 907 Cylinder
Cylinder Cover for the Campingaz 907 Cylinder
Cylinder cover for the campingaz R907 cylinder.
Textile cover made by Campingaz specifically for the R907 cylinder.
External protection for the 907 cylinder against impacts,soiling,bad weather etc.
You are responsible for your cylinder and in order to swap it, the cylinder must be in good condition.
Campingaz Ireland.
Read More...
No other images available
Other products you might like
Campingaz 907 New Cylinder & Refill
Price: €110.00
9mm Butane Gas Hose & Clip Set
Price: €5.00
Genuine Campingaz Regulator for 901, 904 or 907 Bottles.
Price: €12.00

Kampa Campingaz Regulator & Hose Pack.
Price: €20.00
Single Cast Iron Boiling Ring. 2.5kw
Price: €60.00

Go Gas Dynasty Trio Cooker. Double Burner & Grill.
Price: €75.00 €62.50