Categories
Shop by supplier
Information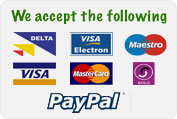 ChickenGuard © Premium Combi Poultry House Door Opener & Self-Locking Door Kit
ChickenGuard © Premium Combi Poultry House Door Opener & Self-Locking Door Kit
World's First Self-Locking Door Kit.
Helps prevent predators claws from lifting the coop door.
Innovative self-locking mechanism and wings.
Tough & durable.
100% recycled runners.
Aluminium door.
ChickenGuard Premium Automatic Chicken Coop Door Opener.
Opens & closes your chicken coop using a timer and/or light sensor.
Adjustable light sensor.
Fully featured LCD display for ease of use.
Powered by 4 x AA batteries (included) or electric powered via USB (cables not included).
MacEoin General Merchants Ltd are the sole Irish Distributor for Chickenguard products.
Read More...
Other products you might like

Big Red Grit Station. Grit Hopper.
Price: €9.99

Mixed Poultry Grit. 1Kg.
Price: €4.25

Rollaway Nestomatic Nestbox. Galvanised.
Price: €35.00
ChickenGuard © Premium Poultry House Door Opener.
Price: €150.00
Chick Heatplate with Regulator for 35 - 40 chicks
Price: €60.00