Categories
Shop by supplier
Information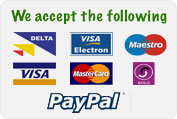 Clulite PRO-1 Pro-Spotter LED Gun Light Package
Clulite PRO-1 Pro-Spotter LED Gun Light Package
The Clulite Pro-Spotter Gun Mounted Lamp has a tight focused 300m spot beam with pinpoint accuracy.
250 Lumens - 250m shooting distance
Lightweight 276g with battery torch & gun mount
Rechargeable li-ion battery (B21)
Duration 3 hours on high & 20 hours on low
Universal gun mounting kit 25/30mm
Mains & vehicle charger supplied
Remote switch & push button switch supplied
Clulite lamps & spares Ireland
Read More...
Other products you might like
Predator Warbler Fox call
Price: €7.00
Fox Call - Plastic. Acme 505.
Price: €9.00

Fox Call - Hardwood - Large - Rabbit Squeaker
Price: €12.00

Fox Caller - Hardwood - Small
Price: €11.00

Trigger Lock for Guns. Universal
Price: €20.00

Highlander Eagle Camo Knife
Price: €17.50