Categories
Shop by supplier
Information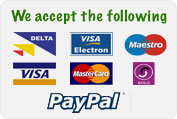 Deben Terrier Finder / Locator Set Mk3M
Deben Terrier Finder / Locator Set Mk3M
Rapid Location.
The upgraded Deben Terrier Finder Mark 3 kit features a low profile transmitting collar and a receiver with a 'search' and 'locate' LED display and varying pitch sounder.
The 10 LED display indicates distance from the terrier and a varying pitch sounder increases in pitch, as the receiver approaches the collar.
A range of 16 feet coupled with improved extra sensitive close-up accuracy means the new DebenTerrier Finder 3 is more flexible than ever.
In search mode the working range is up to 16ft (5m) and in the locate mode the working range is reduced to 8ft (2.5m) for ultra-accurate, 'close-in' location.
Improved Performance - Improved Reliability
The unique receiver circuit is Designed both to detect the signal transmitted by the collar and to reject interference from elsewhere.
The receiver has magnetic reed switches (no moving parts for improved reliability) which operate the on/off facility and a search/locate facility.
Ultra-Efficient Electronic Circuitry means improved collar battery life of over 300 hours.
Terrier Finder 3 can be used to locate more than one Terrier - simply purchase additional collars.
The Terrier Finder / Locator now has the added feature of a PinPointer control.
You can control the sensitivity of the pitch sounder as you approach the colla allowing you to 'home in' on your target.
As you reduce the sensitivity the receiver emits sounds only at ever closer ranges.
You can also use this control to mute the receiver altogether whilst still using the LED display - this enables you to work in complete silence.
NEW Deben Magnetic Switched Collar.
We have developed a new watch style transmitting collar that is fully waterproof and compatible with all Deben Mk3 receivers.
The new transmitting module is switched on and off magnetically so there is no need to remove the batteries after use.
Battery life is over 300hrs and the transmitting module uses a traditional leather collar.
Read More...
No other images available
Other products you might like
Ferret / Terrier Finder Receiver Battery. PP3
Price: €3.80

Rabbit Long Net. 100 yards long.
Price: €110.00
Highlander KINGFISHER 6.5 CM Knife
Price: €10.00

Trapper Hat Sheepskin Style Camo
Price: €15.00

Deben Terrier Finder Collar. Magnetic MK 3
Price: €115.00