Categories
Shop by supplier
Information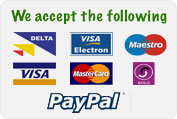 Kampa Croyde 6 Air Tent. 2020 Package. (Inc: Carpet + Footprint).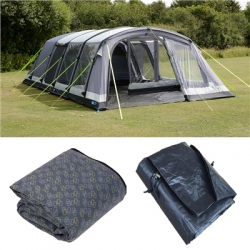 Kampa Croyde 6 Air Tent. 2020 Package. (Inc: Carpet + Footprint).
The Kampa Croyde 6 AIR Tent 2020 FOR AN UNFORGETTABLE CAMPING EXPERIENCE. Includes Carpet & Footprint.
Constructed with WeathershieldTM 150D material, the Croyde 6 AIR offers a high level of specification with the ease of set-up the AirFrame provides.
The front is a truly flexible space, incorporate it into the living area to form a large interior space or divide it off to create another room.
Roll back the multi position front door to create a large sun canopy, perfect for camping in warmer climes.
Specification
Sleeps: 6
Length: 740 cm
Width: 415 cm
Height: 215cm
Pack Size: 85 x 52 x 48cm
Weight: 39.25kg
Material: Weathershield 150D
QUICK-PITCH GUYING SYSTEM
Heavy duty straps that can be pegged out in seconds. Peg the bottom strap taut and adjust the top buckle to apply tension.
MULTI POINT INFLATION
Durable AirPoles are inflated individually for the simplest set-up and take-down.
SLEEP-TITE DARKENED BEDROOMS
Inner tents use dark materials to help block out early sunlight for a good night's sleep.
WEATHERSHIELDTM 150D
Extremely light and easy to handle, WeathershieldTM 150D promises super-fast set-up and take-down every time. It's extremely durable and weather resistant too - this lightweight material offers great value with no compromises.
Read More...
Other products you might like

5 Litre Foot Pump
Price: €9.34

4 x Deluxe Single Flocked Airbeds.
Price: €59.02

Deluxe Double Flocked Airbed
Price: €27.54

Chilly Bin Cool Box 50 Litre.
Price: €93.45
Kampa Sizzle Tabletop BBQ.
Price: €50.00