Categories
Shop by supplier
Information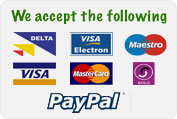 Kampa Dometic Studland 6 Air Tent
Kampa Dometic Studland 6 Air Tent
A fantastic inflatable tent, the Studland 6 Air is one of the very best available, boasting a quick pitching AirFrame construction, stunning aesthetics and quality materials throughout. A luxury camping experience is to be had with a fantastic list of features and capable Weathershield™ 150D material.
Perfectly equipped for family camping, the Studland 6 Air features a spacious living area with full height windows keeping the interior light and airy. Windows feature zipped mesh panels to keep you comfortable whatever the weather and zipped blinds offer privacy when required. Flyscreen panels feature on both side doors for bug free ventilation.
Access to the tent is flexible via the main front door, or two side doors, one covered with a canopy preventing rain from running into the tent when you unzip the door - perfect for wet weather entry. The front porch door features varying levels of opening mimicking the living area panel, progressively roll it back until fully open, bringing the outdoors in.
A SleepTite darkened inner features at the rear of the tent, perfect for a great nights sleep and can be divided into three separate bedrooms with zipped dividers to provide spacious sleeping accommodation for up to six persons. The tent is also wardrobe pole system ready, allowing use of an option wardrobe pole to help keep things neat and tidy. Sleeping accommodation can be increased to 8 persons with use of an optional 2 berth inner.
Other quality features include a QuickPitch guying system, utilising heavy duty straps which peg out in seconds, cable entry point and a Sabrelink Flex ready system for attaching optional lighting. A new side annexe is a stand out optional extra, zipping in place on the side of your tent, providing a flexible storage space separate from your living area.
There are many optional extras available, allowing versatile configurations to best suit your requirements, including a canopy, mesh vestibule, annexe and 2 berth inner. There is also a fitted carpet and tent footprint available to finish your setup.
The Studland 6 Air is sure to enhance your next family camping experience - the ultimate inflatable tent.
Kampa Studland 6 Air Tent 2020 Specifications:
Sleeps 6 Adults comfortably.
Model No. CT3335
Ref No. 9120000209
Length: 460cm
Width: 755cm
Height: 225cm
Inner Tent Height: 140/160/140
Pack Size: 85 x 56 x 50cm
Weight: 42.57kg Extra Ventilation
Features:
Climate control - high and low vents to create an air flow helping to prevent condensation.
Large full height windows with zipped mesh panel and blinds for privacy.
Canopy covered side door for wet weather entry.
Mesh flyscreens on side doors.
SleepTite darkened inner that can be divided into three bedrooms.
Wider bedrooms offering a comfortable nights sleep.
Colour coded inner tent suspension.
Cable entry point for added convenience.
Living room storage pockets.
QuickPitch guying system - heavy duty straps peg out in seconds.
SabreLink Flex ready - for attaching optional lighting.
Wardrobe pole ready - for attaching optional wardrobe pole to keep things tidy and organised.
Optional front classic air canopy, mesh vestibule, annexe, 2 berth inner, footprint and carpet available as extras.
Read More...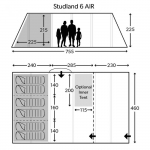 Other products you might like