Categories
Shop by supplier
Information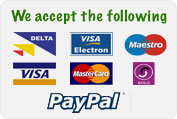 Liquid in Glass Thermometer - ° Farhenheit
Liquid in Glass Thermometer - ° Farhenheit
Liquid in Glass Incubator Thermometer reading in degrees Farhenheit rather than Centigrade.
Manufactured to Brinsea's specification, it covers the temperature range 10 - 105º F.
High accuracy necessary for incubation use.
Suitable for the Brinsea Mini Eco, Octagon 20 Eco, Octagon 40 Eco, Polyhatch, Hatchmaker & Hatchmaster A & H incubators.
Read More...
No other images available
Other products you might like

Thermometer For Brinsea Incubators in Centigrade.
Price: €13.00
Octagon 10 Incubator Electronic Temperature Control.
Price: €55.00

Octagon 10 Egg Tray Dividers
Price: €12.30