Categories
Shop by supplier
Information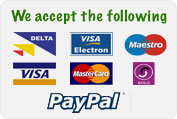 Mealworm Suet Coconut Feeder.
Mealworm Suet Coconut Feeder.
A high energy boost. Attracts a variety of Wild Birds.
Suet To Go Half Coconut Natural Mealworm Flavour Wild Bird Feeder is a great all natural feeder to attract a wide variety of garden birds.
Each coconut has a coir loop added to the shell to make for easy hanging in the garden and is packed with essential fats and oils that wild birds need during colder months.
Coconut Feeders Ireland
Wild Bird Feeders Ireland.
Read More...
Other products you might like
Hanging Metal House Wild Bird Feeder
Price: €14.00
Hanging Fat Ball Feeder for wild birds.
Price: €6.00

Hanging Fruit Bird Feeder
Price: €7.00

Suet To Go - Suet Pellets plus Mealworm - 550g Pouch
Price: €3.00

Suet To Go - Suet Log Feeder
Price: €5.50