Categories
Shop by supplier
Information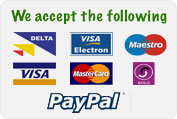 Poultry & Waterfowl Problems
Poultry & Waterfowl Problems
This book covers most of the diseases and ailments encountered in keeping poultry, turkeys and waterfowl.
It is written in plain English in an easy to follow format describing signs, causes, prevention, treatment and mortality.
It also includes many of the drugs used in the treatment of diseases.
There is a list of avian vets in Britain at the back of this book and a translation of veterinary terms into plain English.
There are many illustrations and photographs
Read More...
No other images available