Categories
Shop by supplier
Information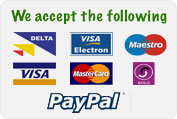 Verm-X Treats For Dogs. 325g.
Verm-X Treats For Dogs. 325g.
Internal Parasite Control For Dogs.
Verm-X is available as an innovative, functional, daily super-premium crunchie.
Verm-X Dog Crunchies are designed to be fed every day throughout the year.
This means that you do not need to buy additional reward or treat products for your dogs as our Verm-X formulation can act as a traditional treat whilst functioning as a continual internal parasite control.
As with all Verm-X products we have not just focused on the effectiveness of our formulations but also their palatability so your dogs will love it.
How many Verm-X Dog Crunchies do I feed?

Feed every day throughout the year.
Small breeds (e.g. Jack Russell): 2 per day.
Medium breeds (e.g. Labradors): 4 per day.
Large breeds (e.g. Newfoundland): 6 per day.
Available in 5 sizes: 100g, 325g, 650g, 1.3kg and 2.6kg.
100g will last one small dog one month.
Verm-x is distributed in Ireland by Mac Eoin General Merchants Ltd. Dingle. Co. Kerry.
Read More...
No other images available
Other products you might like