Categories
Shop by supplier
Information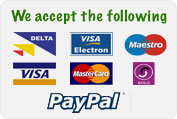 Chicken Lickin Nutri-Peck Block - Super Size 1.4Kg
Chicken Lickin Nutri-Peck Block - Super Size 1.4Kg
The Chicken Lickin Poultry Pecking Block is a tasty treat of seeds, grains, herbal extracts and mixed grits.
Specially selected ingredients to provide nutritional and digestive support for your chickens.
Providing a pecking block of seeds is a proven boredom buster and can help as a deterrent to feather-pecking.
This chicken peck block is 1.4kg in Weight
Metal chain supplied to hang the chicken peck block.
Read More...
No other images available
Other products you might like

Coxoid. 112ml. Coccidiosis Treatment. .
Price: £11.55

Mixed Poultry Grit. 1Kg.
Price: £3.78

1 Litre Nutrimin Apple Cider Vinegar.
Price: £4.89

Agrivite Poultry Pep - 500g
Price: £6.22

Agrivite Garlic Granules - 500g
Price: £6.66

Equimins Country Living Egg Shell Improver. 1.5kg
Price: £8.66