Categories
Shop by supplier
Information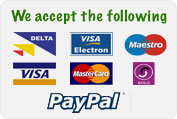 Green Octagonal Magpie Cage Trap. No stock until Mid October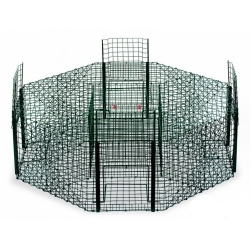 Green Octagonal Magpie Cage Trap. No stock until Mid October
4 compartment green octagonal shaped magpie & feral pigeon cage trap.
Call bird compartment in centre.
Used for control of magpies & feral pigeons
Traps must be checked twice daily and call birds supplied with perch, food & water.
A weather shield must also be placed over the call bird in the centre.
Supplied to Gun Clubs & Estates for control of magpies.
Check current legal status in your country before purchase & use.
*** We cannot ship this product outside the 32 counties of Ireland due to size and weight issues ***
Read More...
No other images available
Other products you might like

Bird Scarer. Wind Powered. 5 Pack.
Price: €49.19

Magpie Decoy.
Price: €7.38
Ultrasonic Bird Scarer.
Price: €57.06

Hunting Barn Owl Decoy.
Price: €24.59