Kampa Waste Stroller - 40 Litre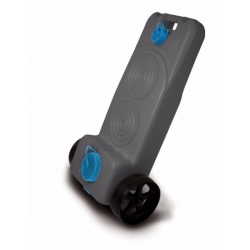 Kampa Waste Stroller - 40 Litre
A robust and durable waste water carrier on wheels with a strong pull handle.
The flat surface of the carrier allows you to strap the cassette from your portable toilet so that you only have to do one trip to empty them both.
Features:
Large 40 litre capacity
Extra wide 22.5cm wheels
Easy to pull over all types of ground
Ergonomic design fits most caravans
Two top openings: 95mm and 60mm
Bottom opening: 60mm
Caps with retaining straps
Comfortable handle
Can be used as a trolley (optional retaining straps available)
Built-in anchor points for optional retaining straps
Wheels and axle can be removed for easy storage
Dimensions (wheels off) - W 37 x D 25 x H 96 cm
Dimensions (wheels on) - W 52 x D 25 x H 97 cm
Accessories and spare parts available
Read More...
No other images available
Other products you might like
Elsan Blue Toilet Fluid. 2 Litre.
Price: €13.50
Kampa Portaflush 10 Litre Toilet
Price: €69.00

Elsan Blue Toilet Fluid. 4 Litre.
Price: €26.50

Kampa Portaflush 20 Litre Toilet
Price: €85.00

Elsan Pink Toilet Fluid. 2 litre.
Price: €12.00
Elsan Green Organic Toilet Fluid. 2 Litre.
Price: €13.50