Categories
Shop by supplier
Information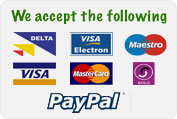 Campingaz Cp250 Gas 12 Pack.
Campingaz Cp250 Gas 12 Pack.
12 pack of the Campingaz CP250 gas cartridge.
CP250 Campingaz 250gm Butane gas cartridge.
For use with Campingaz Bistro / Bright Spark Stove / Uno Stove / Gelert Stove or any appliance which uses these type of gas cartridges
We supply tens of thousands of Campingaz gas cartridges throughout Ireland both North & South through our dealer network.
Read More...
No other images available
Other products you might like
Coleman 100 Quart Xtreme Cooler
Price: £117.98

Campingaz Camp Bistro 2. CP250 Stove
Price: £21.85

Chilly Bin Cool Box 25 Litre.No Stock until Jan 2021
Price: £43.70

Chilly Bin Cool Box 50 Litre.
Price: £83.02
Kampa Sizzle Tabletop BBQ.
Price: £44.42