Categories
Shop by supplier
Information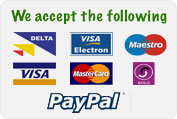 CV300 Campingaz Cartridge. 4 Pack
CV300 Campingaz Cartridge. 4 Pack
CV300 Propane / Butane mix Gas cartridge. Cv300 - 4 pack.

For use with Campingaz Twister / Twister Plus gas stoves & Lumogaz lanterns or any appliance which uses these type of click on Campingaz cartridges.
Product which use this are Lumostar, Lumogaz, CV300 Stove, CV300 Lantern, CV300 Bistro, CV300 Instastart & many more.
We supply thousands of gas cartridges throughout Ireland both North & South through our dealer network.
Contact us for Campingaz distributors and outlets in Ireland.
Read More...
No other images available
Other products you might like
Campingaz Bleuet Micro Plus Stove
Price: £19.54
Campingaz Twister Plus Stove.
Price: £24.87

Campingaz Lumostar Plus PZ Lantern
Price: £31.98
Campingaz Twister Plus Piezo Stove.
Price: £30.21