Categories
Shop by supplier
Information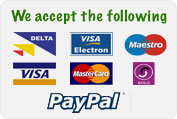 CV470 Campingaz Gas Cartridge
CV470 Campingaz Gas Cartridge
450gm Campingaz Propane/Butane mix Gas cartridge.
For use with Campingaz Twister / Twister Plus & Bleuet Micro gas stoves & gas lanterns or any camping appliance which uses these type of click on cartridges.
We supply thousands of gas cartridges throughout Ireland both North & South through our dealer network.
Contact us for Campingaz distributors and outlets in Ireland.
Read More...
No other images available
Other products you might like