Categories
Shop by supplier
Information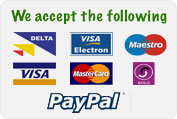 Coleman 5 Quart Flip Lid Coolbox
Coleman 5 Quart Flip Lid Coolbox
Cool box capacity 4.7 Litre.
This cooler box Will hold 6 cans of minerals.
Flip Lid & Upto 9 hours cooling performance with ice packs.
Textured exterior resists scuffs and scratches.
Safety locking system ensures that the cooler can not be opened accidentally.
Dimensions: 27 x 20 x 18 cm
This high-performance Polyurethane insulated 4.7-litre mini cooler has space for six cans and will keep ice for up to one day, making it ideal for use as a lunch cooler or on the beach.
Read More...
No other images available
Other products you might like

Ice Pack - Campingaz M30
Price: €6.00

Twin Freezer Pack. 2 x 200g Ice Blocks.
Price: €3.50

Twin Freezer Pack. 2 x 400g Ice Blocks.
Price: €4.50