Categories
Shop by supplier
Information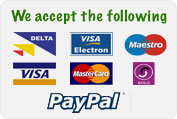 Coleman PerfectFlow 2 Burner Stove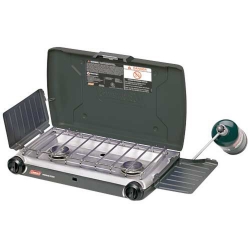 Coleman PerfectFlow 2 Burner Stove
Efficient 2 burner stove with an extremely rugged construction operating off Coleman Propane cylinders.
Abundant with clever features, it includes Windblock a system that includes two large windshields designed to protect the flame from the wind, so that the stove will operate efficiently in windy conditions.
When the windshields are not in use, they are strong and robust enough to be placed horizontally and act as a side table, handy to keep your cooking essentials close-to-hand.
The stove's robust and durable construction features an aluminised steel cook top and a removable nickel-chrome grate on the stove to support the pans, the case is enamelled steel for long-term performance and features a locking latch to secure the stove in transit.
PerfectFlow is an integrated regulator that provides consistent cylinder performance regardless of temperature and the inherent properties of propane mean that this stove can operate effectively in temperatures as low as -42oC.
Perfectflow is great also at higher altitudes and guarantees optimum performance levels throughout the life of the cylinder.
InstaStart ignition will have the stove operating instantly and offers matchless lighting, first-time, every-time.
When in use, the two high power burners operate independently and are fully adjustable for greater control over your cooking.
Will Boil 1 Litre of water in 4minutes 55 seconds.
Runs on Coleman PPN Propane Gas Cartridges available to buy clicking here.

Read More...
No other images available
Other products you might like

Coleman Propane PPN Gas.
Price: €27.50
Mess Tins
Price: €10.00
1.5 Litre Stainless Steel Whistling Kettle.
Price: €15.00

Twin Freezer Pack. 2 x 200g Ice Blocks.
Price: €3.50

Twin Freezer Pack. 2 x 400g Ice Blocks.
Price: €4.50