Categories
Shop by supplier
Information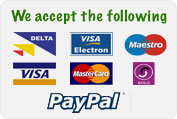 Double Action 2ltr Push / Pull Pump
Double Action 2ltr Push / Pull Pump
Inflate & deflate all your inflatable essentials with this practical 2 litre Push-Pull pump.
Complete with large handle & footplate for easy use.
Inflate & deflate with minimum hassle
Great for use with airbeds, inflatable boats & beach inflatables
A large footplate & handle for easy use
The hose locks in place for inflating & deflating
Complete with assorted sized nozzles/connectors to fit most valves
Colour: Yellow/Black
2 x 2000cc
Inflates/Deflates
Read More...
No other images available
Other products you might like

Kampa Watergate 6. 6 Man Tent. No stock until 2021
Price: €482.03
Kampa Brighton 4 Tent - Grey
Price: €103.29
Kampa Croyde 6 Air Tent. 2020 Model.
Price: €1,475.61 €1,180.49
Kampa Annecy Sleeping Bag. Red. 2 Season.
Price: €21.64